Click here to resize type
Oculoplastic Surgery in West
Palm Beach & Jupiter, FL
The eye is an extraordinarily complex and productive structure. From the moment you wake in the morning, it processes millions of pieces of information and delivers them to the brain to interpret into the images you see. The eye is also constantly adapting to changing light intensities and objects at different differences.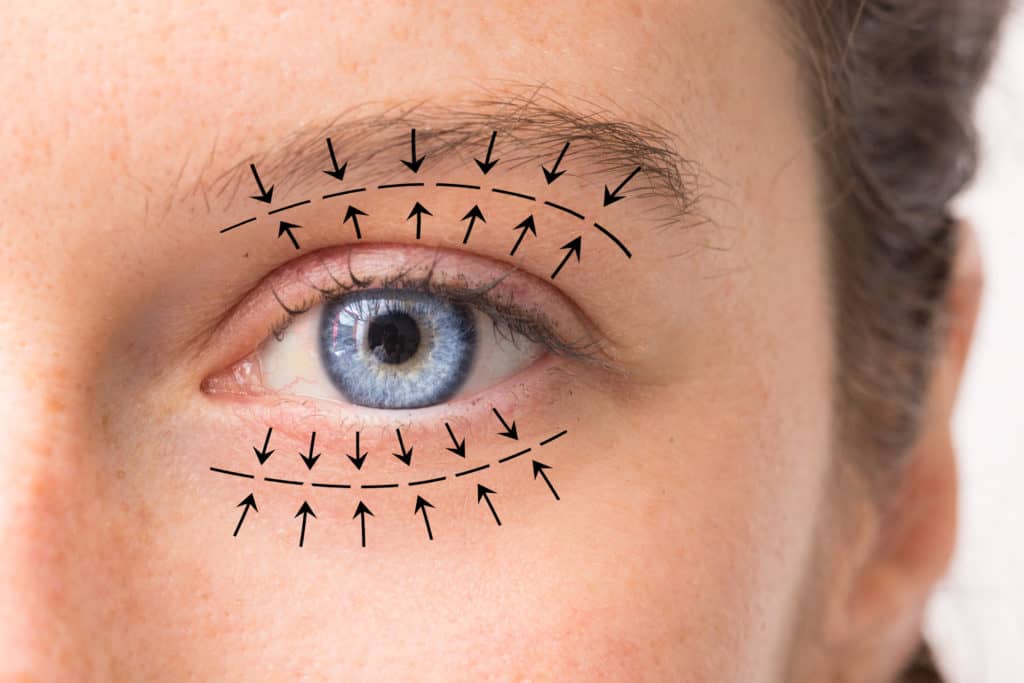 Eye Conditions that can be Corrected through Oculoplastic Surgery
As you might expect with such an intricate system, there is much that can go wrong. Oculoplastic surgeons focus on problems that may develop with the eye sockets, eyelids, tear ducts and even surrounding areas of the face. They reconstruct eyelids and repair orbits, correct eyelid-position abnormalities, remove growths and perform delicate surgery on an array of ocular structures. Examples include:
Eye cancer and problems with the eye socket, such as fractures, lacerations, inflammation or infection
Eyelid disorders, including blepharospasm, hemifacial spasm, Meige syndrome, aberrant regeneration, dermatochalasis, ectropion, entropion and eyelid retraction
Graves disease and thyroid eye disease
Skin cancer on the eyelid or near the eye
Trichiasis, or abnormally growing eyelashes
Tear duct blockage that can cause dry eye or, conversely, excessive tearing
Cosmetic Eye Procedures
Oculoplastic surgeons also address cosmetic concerns. Their techniques range from noninvasive options such as dermal fillers and chemical peels to eyelid and brow lift surgery.
Eyelid Surgery
In the case of eye or brow ptosis (droopiness), the technique chosen is based upon the location of the sagging skin. For the candidate who is primarily concerned with excess fat and loose skin in the upper or lower eyelids, blepharoplasty makes the most sense. Blepharoplasty, or eyelid lift, eliminates excess skin and fat and tightens the eyelid muscles if necessary.
Brow Lift
Brow lift will be the preferred solution when the brow is within the eye socket, has lost its natural shape or if a patient has a pocket of fat or loose skin that involves more than just the upper eyelid.

Brow lift smooths out frown lines, creases and wrinkles on the forehead and around the eyes. During the procedure, an oculoplastic surgeon lifts forehead skin and the brow area to restore a youthful facial appearance. 

Brow lift will improve the appearance of sagging skin, crow's feet, frown lines and deep lines on the forehead, but not completely eliminate them. If "hooding" of the upper eyelids was caused by loose skin in this area, brow lift will also improve the appearance of skin around the eyes.
Oculoplastics Costs
The price for oculoplastic care depends on the specific treatments. Health insurance may cover some or all of a medical procedure like eyelid disorder or an eye socket fracture/infection. However, procedures that are cosmetic in nature (such as blepharoplasty or brow lift) are not covered by insurance. During a consultation, the team at Mittleman Eye can provide complete quotes. Financing options are available through CareCredit.
Oculoplastics FAQs
How are oculoplastic surgeons different from ophthalmologists?
Although both types of doctors can perform surgery on the eye, oculoplastic surgeons are professionals who completed additional training after finishing their ophthalmological studies. The American Society of Ophthalmic Plastic and Reconstructive Surgery (ASOPRS) requires that candidates complete an extra two-year training program to earn certification as an oculoplastic surgeon. This program focuses on reconstructive and plastic surgery techniques for the eye sockets, eyelids, eyebrows and tear ducts.
What is ptosis and what causes it?
Ptosis refers to a drooping eyelid that creates a hooded effect over the eyeball. It can affect one or both eyelids. In rare cases, children are born with this condition (congenital ptosis) or develop it at an early age. However, most people affected by ptosis develop it in adulthood when eyelid muscles weaken and excess tissue around the eyelid pushes the lid downward. Other less frequent but not uncommon causes of ptosis include injury, eye disease and tumors. It can also occur as a side effect of eye surgery. In most cases, surgery is necessary to correct ptosis. However, depending on the cause, medicated eye drops may also improve how wide the eyelids open.
Can a cosmetic procedure improve my vision?
While upper eyelid surgery and brow lift are primarily performed to rejuvenate the face, you may discover the added benefit of widening the scope of your vision. In extreme cases, droopy eyelids can reduce your field of vision. After a doctor surgically removes excess fat and skin just above the eye, you should find that you have a much easier time opening your eyes more completely.
Why would I see an oculoplastic surgeon rather than a standard plastic surgeon for a cosmetic procedure?
The reason to choose an oculoplastic surgeon for an eye or eye-adjacent procedure is safety. Most plastic surgeons are trained in making aesthetic improvements throughout the body (face, breasts, abdomen, thighs, etc.) and do not have specialized knowledge of the eye's anatomy. Mittleman Eye's oculoplastic surgeons prioritize the health of your eye in any cosmetic procedure performed and ensure that the functionality of your eyes and eyelids remains intact while rejuvenating your face.
What is Graves' disease and how does it affect the eyes?
Graves' disease is a disorder of the immune system that produces an excess of thyroid hormones. Approximately 30% of people who have Graves' disease develop thyroid eye disease (TED), which has symptoms like bulging eyeballs and retracting eyelids. For some patients, artificial tears may be sufficient to minimize the inflammation. For other patients, oculoplastic surgery may be necessary to address the symptoms.
How to Schedule Cosmetic or Reconstructive Eye Surgery
If you would like to learn more about oculoplastic surgery, we invite you to schedule a personal consultation with an experienced ophthalmologist at our West Palm Beach or Jupiter office by contacting Mittleman Eye today.