Click here to resize type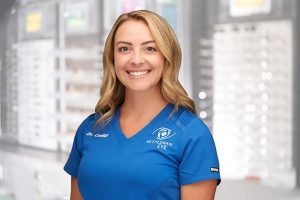 Stephanie, originally from Miami and raised in West Palm Beach, is a native of Florida. She attended the University of Central Florida, where she earned a bachelor's degree in Health Sciences. She attended Nova Southeastern University, where she earned her Doctor of Optometry degree. Stephanie completed her clinical training at Nova Southeastern University, Mittleman Eye and the West Palm Beach VA Hospital. She trained in several specialized clinics including contact lenses, low vision, pediatrics, glaucoma, and eye diseases.
After completing her training, Stephanie received the Lenny Cherdack Legislative Award, given by the Florida Optometric Association. She is certified by the National Board of Examiners in Optometry. She is a member of the Florida Optometric Association, the Palm Beach County Optometry Society, and the American Optometric Association.