Click here to resize type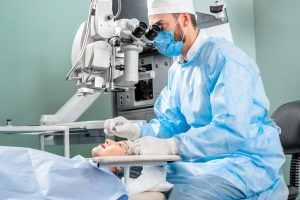 Mittleman Eye is proud to be on the cutting edge of cataract treatment. As professionals, we stay on top of the latest research to continuously upgrade our techniques and technology to achieve the best possible outcomes for our patients. More recently, these improvements have included how we handle sedation during cataract surgery.
Difference with Standard Cataract Surgery

Years ago, cataract surgery was only performed in hospitals with the assistance of intravenous (IV) sedation. Then the surgery moved to outpatient surgery centers known as ASCs (ambulatory surgery centers). That is where cataract surgeries are performed today. At an outpatient facility, you need to be cleared by your primary care physician for surgery. You also have to fast overnight before surgery and spend a few hours at the center for paperwork, preop, IV sedation, and then post-op.
The experience is generally described as stressful. Over the years, we have heard from patients that they put off their surgery simply because of the hassle of having the surgery done at the surgery center.
How This Alternative Sedative Works
Before cataract surgery begins, the team at Mittleman Eye will provide patients with an oral sedative. This medication is just as effective as an IV drug and is absorbed by the body more easily. The patient should start feeling the medicine relaxing the body in about 15 minutes. This accelerated pace allows the preparation period ahead of the surgery to be shorter overall.
Be aware that while IV-free cataract surgery is a good approach for an estimated 95% of patients, some patients will still need the assistance of IV. The doctors at Mittleman Eye will confirm your candidacy for the procedure in advance.
IV-Free Cataract Surgery in the Surgery Suite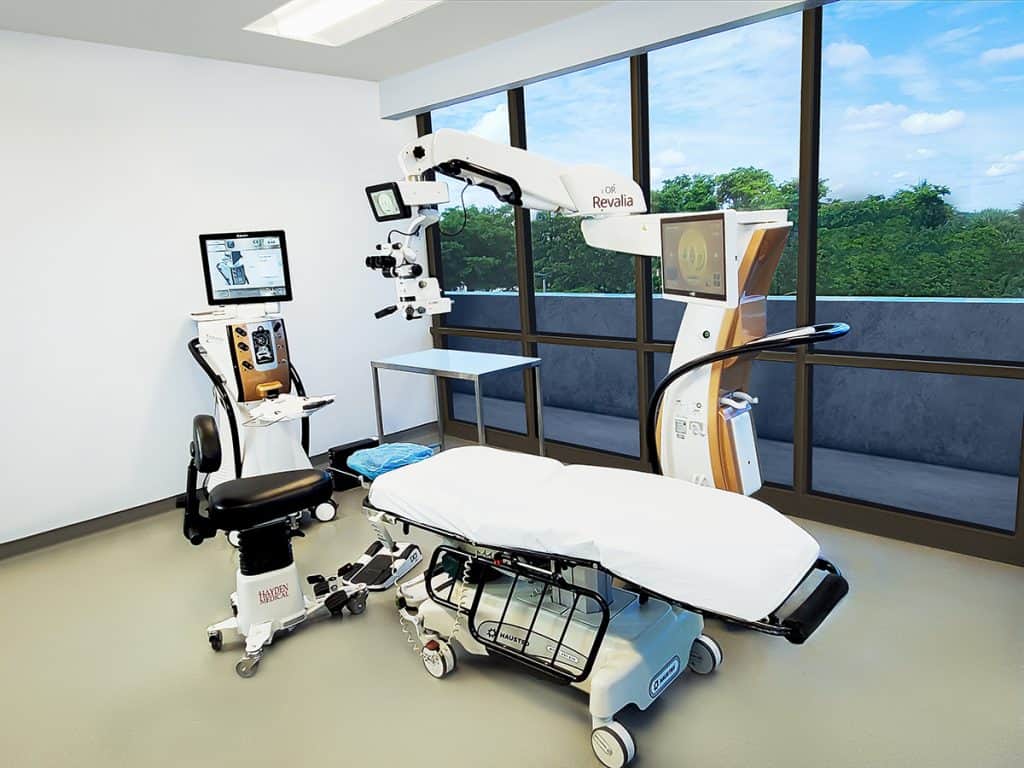 We now have in-house office space for IV-free cataract surgery. This allows our patients to undergo cataract surgery in the same location they receive their eye care. Although having an in-house office space is becoming more common in top eye care practices across the country, Mittleman Eye is currently the first and only eye practice in all of Palm Beach County to offer this for IV-free cataract surgery. Having this facility allows us to provide convenience and superb care to our cataract patients.
Advantages of performing cataract surgery in-house include:
Minimizing anxiety: Many patients are surprised to find that most eye doctors require them to travel to a separate facility for surgery, which can heighten their nervousness. Patients have an easier time remaining calm when they know they will be coming to an office they are already familiar with and interacting with staff members who they have already met.
Scheduling freedom: Rather than working around the schedules of other doctors and staff at a shared facility, we can develop our appointment times to fit your schedule better. We also have more control over the flow of appointments to avoid delays and extended wait times. Plus, when our doctors do not have to travel off-site to perform a surgery, that allows them more time to see patients in need.
Cleanliness: At a shared surgical space, we have less control over the condition of the facilities. By having an in-house office space, we can ensure that everything is maintained to our high standards.
Discuss Cataract Treatment with Our Doctors
If you have cataracts, the experts at Mittleman Eye are here to help you restore your vision. Call/Text (561) 500-2020 or request an appointment online to discuss cataract surgery, IV-free sedation, and our in-house office space.