Click here to resize type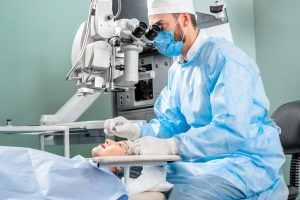 Mittleman Eye is proud to be on the cutting edge of cataract treatment. As professionals, we stay on top of the latest research to continuously upgrade our techniques and technology to achieve the best possible outcomes for our patients. More recently, these improvements have included how we handle sedation during cataract surgery.
Difference with Standard Cataract Surgery

Years ago, cataract surgery was only performed in hospitals with the assistance of intravenous (IV) sedation. Then the surgery moved to outpatient surgery centers known as ASCs (ambulatory surgery centers). That is where cataract surgeries are performed today. At an outpatient facility, you need to be cleared by your primary care physician for surgery. You also have to fast overnight before surgery and spend a few hours at the center for paperwork, preop, IV sedation, and then post-op.
The experience is generally described as stressful. Over the years, we have heard from patients that they put off their surgery simply because of the hassle of having the surgery done at the surgery center.
How This Alternative Sedative Works
Before cataract surgery begins, the team at Mittleman Eye will provide patients with an oral sedative. This medication is just as effective as an IV drug and is absorbed by the body more easily. The patient should start feeling the medicine relaxing the body in about 15 minutes. This accelerated pace allows the preparation period ahead of the surgery to be shorter overall.
Be aware that while IV-free cataract surgery is a good approach for an estimated 95% of patients, some patients will still need the assistance of IV. The doctors at Mittleman Eye will confirm your candidacy for the procedure in advance.
IV-Free Cataract Surgery in the Surgery Suite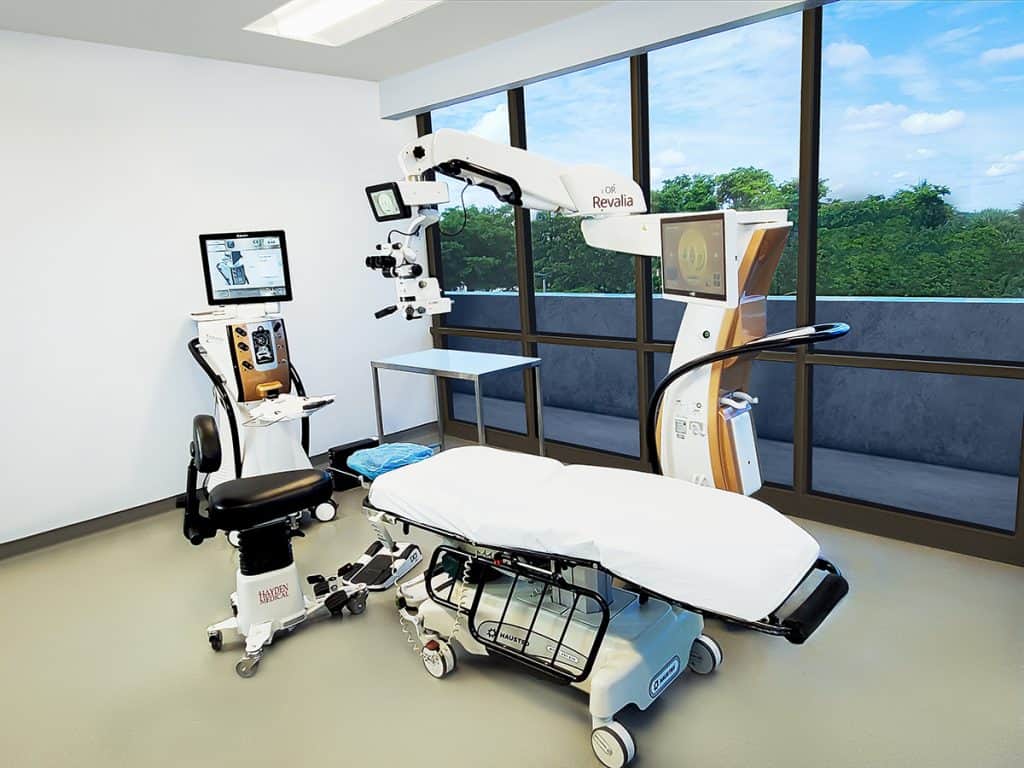 We now have in-house office space for IV-free cataract surgery. This allows our patients to undergo cataract surgery in the same location they receive their eye care. Although having an in-house office space is becoming more common in top eye care practices across the country, Mittleman Eye is currently the first and only eye practice in all of Palm Beach County to offer this for IV-free cataract surgery. Having this facility allows us to provide convenience and superb care to our cataract patients.
Advantages of performing cataract surgery in-house include:
Minimizing anxiety: Many patients are surprised to find that most eye doctors require them to travel to a separate facility for surgery, which can heighten their nervousness. Patients have an easier time remaining calm when they know they will be coming to an office they are already familiar with and interacting with staff members who they have already met.
Scheduling freedom: Rather than working around the schedules of other doctors and staff at a shared facility, we can develop our appointment times to fit your schedule better. We also have more control over the flow of appointments to avoid delays and extended wait times. Plus, when our doctors do not have to travel off-site to perform a surgery, that allows them more time to see patients in need.
Cleanliness: At a shared surgical space, we have less control over the condition of the facilities. By having an in-house office space, we can ensure that everything is maintained to our high standards.
IV-Free Cataract Surgery FAQs
Is Cataract Surgery Covered by Insurance?
Most medical insurance plans, including Medicare, cover cataract surgery for patients whose vision is impacted by cataracts. Check your plan to determine the amount of coverage you are entitled to and any co-pay expenses you may be responsible for. Be aware that many plans do not cover certain types of IOLs (intraocular lenses), so if you choose a lens that corrects a refractive error, you are likely to have to cover that cost.
Why Do Patients Prefer Oral Sedatives?
With traditional cataract surgery, the IV needle can cause pain and bruising. An oral sedative avoids these problems. Moreover, the medication enters and leaves the body more quickly when taken orally.
Will I Be Asleep During the Surgery?
Patients stay awake during cataract surgery. The aim of the sedative is not to put you to sleep, but to make you more comfortable during the procedure. Because cataract surgery can be completed relatively quickly, general anesthesia is not necessary.
Is Cataract Surgery Painful?
Our team will numb your eye before the surgery to ensure you do not experience pain during the procedure. Even after cataract surgery, your discomfort should not be significant. You may choose to take over-the-counter pain medication if you deem it necessary.
How Long Will I Have to Stay at the Surgery Suite?
Cataract surgery is an outpatient procedure, so you will be able to return home within a few hours. The surgery itself is generally completed in less than 20 minutes. You should arrange to have someone else drive you home, though, as you will still be under the influence of the sedative. The good news is that, by the following day, you should see and feel well enough to resume most normal activities.
How Soon Can I Exercise after Cataract Surgery?
It is important to limit your physical activity following surgery to allow your eyes an opportunity to recover. Exerting pressure in your eyes can increase your risk of complications. Light exercise is fine after a few days, but put off strenuous exercise until your doctor approves. Most patients can resume a full exercise routine after about one month.
Will My Vision Prescription Change after Cataract Surgery?
Overall, you will see much better without the haziness caused by cataracts. Whether you will need to update your prescription depends on what type of IOL is used to replace your natural lens. Mittleman Eye offers several types of IOLs (including monovision and multifocal) that are designed to correct refractive errors and help you to lower your prescription or dependence on glasses.
Why Should I Choose Mittleman Eye for Cataract Surgery?
Mittleman Eye has some of Florida's top-rated ophthalmologists; we are proud to offer an experienced team that priorities patient care. We are the only eye care provider in Palm Beach County to offer an in-office surgical suite; you will not find the same amenities anywhere else in the area. Our patients appreciate the convenience and comfort of having surgery performed at the same office where they have their other appointments, surrounded by a team who has already earned their trust.
Discuss Cataract Treatment with Our Doctors
If you have cataracts, the experts at Mittleman Eye are here to help you restore your vision. Call/Text (561) 500-2020 or request an appointment online to discuss cataract surgery, IV-free sedation, and our in-house office space.